What's the best ultralight backpack? We interviewed thru-hikers and dedicated weekend warriors, putting loads of models to the test to narrow in on the top featherlight hiking backpacks for any adventure.
Ultralight backpacking is exploding in popularity. With casual backpackers and seasoned thru-hikers alike focusing more and more on a lighter base weight, the options for a streamlined, ultralight setup on trail have expanded dramatically.
There isn't one blueprint of what makes a perfect ultralight pack, and it really does depend on what you're comfortable with. To help narrow down the choices, we interviewed a number of knowledgeable thru-hikers and put several models to the test to find some of the best ultralight backpacks out there.
First things first: ultralight hiking is not for everyone. If you like creature comforts like cushy sleeping pads, multiple changes of clothing, complex meals with fresh ingredients, or a full-size toothbrush, you may want to reevaluate your backpack needs.
But if you're looking to pack light or take on extensive mileage by foot, you've come to the right place. While there isn't a single ultralight backpack for everyone, we've noted some of the useful features and specs of each of our recommendations to help you find the best ultralight backpack for your needs. At the end of our list, be sure to check out our comparison chart , buyer's guide, and frequently asked questions section.
The Best Ultralight Backpacks of 2023
Hyperlite Mountain Gear makes a wide range of ultralight equipment, including a dozen backpacks for everything from mountaineering to ice climbing. For backpackers and hikers, several choices meet the ultralight demand.
The 3400 Windrider ($379) is a bomber pack made of Dyneema Composite Fabric, a high-end laminate that is 15x stronger than steel. It has removable aluminum stays for added versatility, and weighs in at a scant 32 ounces.
The pack is basic. It has one main compartment with a bladder holder, a large mesh area with three separate compartments, two side pouches, and an ice axe loop. It keeps water out through the roll-top closure and compresses down with a strap. The overall volume of the pack can be adjusted a ton by either rolling the pack down or unrolling it to the desired level.
It's expensive, but dang, is this brand durable! In our testing, despite climbing, rolling, and unrolling the top closure hundreds of times, placing sharp objects in the main compartment, sitting on them in rafts, and getting brushed and harassed by thorny wilderness on miles-long treks, there was not a single hole or tear.
For the thru-hiker or weight-conscious weekend warrior looking for top-of-the-line ultralight performance that doesn't skimp on durability, the 3400 Windrider may just be the perfect pack.
Read the full GearJunkie review of the Hyperlite Mountain Gear 3400 Windrider.
Specs:
Weight: 1 lb., 15.6 oz. (white); 2 lbs., 2.5 oz. (black)
Volume: 64.8 L (55 L main compartment, 9.8 L outside storage)
Material: DCH50 main body and DCH150 bottom (white); DCH150 main body and bottom (black)
Outside storage: Two zippered hipbelt pockets, two side water bottle pockets, front shove-it pocket, ice axe attachment
Pros:
Lightweight yet durable fabric
Easy to adjust the volume
Removable aluminum stays add structure and support
Cons:
Ice axe attachment is kind of finicky to use
Expensive
Check Price at Backcountry Check Price at Hyperlight Mountain Gear

The newly updated Mountainsmith Scream 55 is a heck of a deal for ultralight backpacks. At a retail price of just $160 (and a lot less in the off-season), this is by far the least expensive on this list. We used the Scream 55 pack on a few big hikes and were highly impressed.
This pack is a top-loader with roll closures. This isn't our favorite style, as it tends to minimize the useful space at the top of the pack. Given this pack's 55 L size, however, it should have plenty of space for any light packer.
A large U-shaped zippered front panel helps access gear easily, and two large external stretch mesh pockets help with organization. With no top lid, this feature gives you a place to put small, frequently needed items. In use, we were impressed with how well the minimal EVA framesheet distributed weight through our back, hips, and shoulders.
The Scream 55 weighs in at 2 pounds 13 ounces. While certainly on the high end of the scale for ultralight backpacks, these backpacks have a durable ROBIC fabric and are good choices for those on a budget or who want a little more comfort than some lighter models offer.
Specs:
Weight: 2 lbs., 13 oz.
Volume: 55 L
Material: 210d Robic Dynajin nylon ripstop UTS
Outside storage: Two zippered hipbelt pockets, two mesh side pockets, double front panel storage pockets
Pros:
Comfy shoulder straps
Solid organization with plenty of zippered pockets and access points
Lightweight internal frame distributes loads well
Cons:
On the heavier side for ultralight packs
Roll top closure is sometimes a little funky if pack isn't fully loaded
Check Price at Mountainsmith
ULA continues to lead the way in thru-hiking and ultralight backpacking with their simple, efficient designs and killer comfort. Weighing in at just over 2 pounds, it's hard to find a pack that boasts such high load-carrying capabilities at such a minimum weight.
While it's not the lightest ultralight option on the market, the Circuit's ($280) extra features add a level of comfort that justifies its extra weight, making this one of our top choices for a comfortable ultralight pack.
Letting the stats speak for themselves, Halfway Anywhere's annual survey of PCT hikers has rated the 68 L ULA Circuit as one of the most popular packs used by thru-hikers for the past several years.
Despite its low weight, the Circuit does not skimp on features, with plenty of outside storage and lashing capabilities. Two side water bottle pockets, two zippered hip-belt pockets, ice axe/trekking pole retention loops, and a large front shove-it pocket round it out. The pack carries heavier loads comfortably with its contoured shoulder straps and padded back panel.
Its roll-top closure makes the volume of the pack highly adjustable. This is prime for thru-hikers, who will often load up for long stretches between towns and then can roll the top down to about 35 L as they empty the pack.
The pack carries extremely well, featuring a 1.2-ounce carbon fiber and Delrin suspension hoop coupled with a dense foam frame and single aluminum stay. This unique design provides great load control, rigidity, and back support without compromising on weight or impeding the range of movement.
The one complaint with this pack, however, is the side pockets are constructed at a pretty steep angle, making them really only useful for storing water bottles. It's a small detail but notable compared to some other models.
Though not the lightest of ultralight packs, the ability to carry larger loads while still cutting down on weight makes the ULA Circuit an ideal option for those just breaking into ultralight backpacking.
Specs:
Weight: 2 lbs., 5.2 oz.
Volume: 68 L
Material: ULA 400-denier Rubic
Outside storage: 2 zippered hipbelt pockets, 2 adjustable side water bottle pockets, front shove-it pocket, ice axe/trekking pole attachments
Pros:
Plenty of features that add to usability/comfort without adding too much weight
Super durable
Padded shoulder straps and hipbelt carry heavier loads well
Cons:
Side pockets are at somewhat of an awkward angle
Not the lightest ultralight pack out there
A growing legend amongst the gram-weenie ultralight crowd, the EVLV ULTRA ($255) from Waymark Gear seems to float behind you as you effortlessly crank out the miles. This relatively new, small cottage company from Utah is making a significant splash in the thru-hiking community, churning out lightweight, functional backpacking gear that doesn't sacrifice comfort or reliability over 2,000+ mile journeys.
Our tester was shocked at the number of Waymark packs he saw battling along during his thru-hikes of the CDT and AT last year, and frankly jealous when some of the hikers let him compare the weight of their pack to his. How are 5-pound base weights so common now?
This is the lightest full-size backpack in their lineup, starting at a mere 14 ounces. Insane. The EPL Ultra 200 and 400 Black ECOPAK fabric is featherlight but quite durable, showing little to no signs of wear after many miles of testing and some light off-trail travel. There's also a stretchy front shove-it pocket that runs most of the pack's length, offering a good deal of external storage, two trekking pole loops, and one ice axe loop.
A unique feature of the EVLV ULTRA is its use of load lifters (pretty uncommon in ultralight packs) and a thoughtfully designed shoulder harness. This significantly improves how the pack rides on your back and carries loads without a hipbelt.
The shoulder straps are attached to the pack with a narrower piece of webbing, allowing the straps to mold to your shoulders better as you move, while the load lifters prevent the pack from sagging. This is a noticeable plus when rolling out of town and hauling five days of food. The pack comes without a hipbelt, but you can add a one-inch webbing hipbelt or a larger padded hipbelt if desired.
For the die-hard ultralight backpacker setting off on a 5-month epic or the weekend adventurer looking to streamline their kit, the EVLV ULTRA stands out as one of the best packs for the job.
Specs:
Weight: 13.9 oz. without any accessories
Volume: 35 L or 38 L
Material: EPL Ultra 200 and 400 Black ECOPAK fabric
Outside storage: Two side water bottle pockets, front shove-it pocket, two trekking pole loops, one ice axe loop
Pros:
Unique, well-engineered shoulder harness carries loads well without a hipbelt
Crazy light without sacrificing durability for multi-month treks
Comfortable padding for the base weight it is designed to carry
Cons:
Need to purchase hipbelt separately
Long lead times since each pack is a custom order (upwards of 8 weeks)
The Stone Glacier Terminus 7000 ($649) is one of the more unique "haul everything" packs we've tested. Designed for the hyper-specific niche of big mountain goat and sheep hunting, the pack is capable of that and a whole lot more.
In essence, the pack is a single large tube of high molecular weight polyethylene attached to a world-class frame, shoulder straps, and harness. Designed to carry massive loads north of 150 pounds, this pack is a dream to carry. And thanks to smart carbon composite design, it weighs in at just 3 pounds 15 ounces. Super impressive, given its volume of over 115 L!
Our team tested the pack hauling loads in preparation for elk hunting, mountaineering, and general backpacking. It carries remarkably well, even with a lot of weight. While the pack is bare-bones in terms of storage solutions, it does have two internal pockets, a large external pocket, and lid pocket, all of which can help keep items organized.
But its strength comes in hauling heavy loads. Unlike some hunting packs though, it doesn't have a meat shelf, meaning that the load needs to be loaded internally. So strangely shaped objects (like firewood or chainsaws) will be awkward to load. For those who need to haul heavy loads though, this one is a unique, excellent choice that carries weight amazingly well.
Check out the full GearJunkie review of the Stone Glacier Terminus 7000 for more info on this ultralight monster.
Specs:
Weight: 3 lbs., 15 oz.
Volume : 115 L
Material: X-Pac and SG ultra-high-molecular-weight polyethylene (UHMWPE) blend fabric
Outside storage: No pockets, but plenty of sinch straps to attach things to
Pros:
Super low weight for the volume and how much it's designed to carry
Carries and distributes the weight of heavy loads well
Very durable
Cons:
Pretty specific design for a niche need
Huge profile
Check Price at Scheels Check Price at BlackOvis
Best of the Rest
Gossamer Gear makes superlight backpacks that all hit a similar weight and price point. The Mariposa 60 ($285), for example, weighs 2 pounds and has a removable internal frame and load lifters. This pack has been around for a while, with a lot of fans in the ultralight backpacking world.
The Gossamer excels with ROBIC high-tensile nylon, which is remarkably durable for its weight. It also hits a modest price point compared to packs made with more expensive Dyneema Composite fabrics.
A standout feature of the Gossamer line is their knack for organization. In addition to seven extra pockets outside the main storage compartment, this pack has a mesh pocket for wet items and three large side pockets.
The biggest negative that we noticed had to do with its ventilation. Compared to some other models in its weight and price category, the foam sheet on the back is somewhat breathable, but left us wishing for some greater airflow.
With its broad range of external storage options, durable design, and lightweight construction, the Mariposa is a go-to backpack for the thru-hiker looking for a featured, reliable option that will last throughout a season of heavy use.
Specs:
Weight: 1 lb., 13.2 oz. (small); 1 lb., 15.2 oz. (medium); 2 lbs., 1 oz. (large)
Volume: 60 L (36 L main compartment, 24 L exterior pockets)
Material: 100- and 200-denier Robic high-tensile strength nylon
Outside storage: 2 zippered hipbelt pockets, 3 side pockets (1 large dump pocket, 2 small water bottle pockets), front mesh shove-it pocket, ice axe attachment
Pros:
Phenomenal organizational features
Approachable price point
Made with durable but light Robic nylon
Cons:
Not the best ventilation
Zippered top pocket difficult to use when pack is fully loaded
Check Price at Gossamer Gear
Now we're getting into those truly specialized ultralight goodies! With this pack, it's all in the brand's name. Starting at 13 ounces (that's not a typo), LiteAF's Ultra 30L Curve ($240) seems to float from your hand when you pick it up. People are really thru-hiking with this?
More and more, these snazzy-colored, funky-shaped packs can be seen trotting (swiftly) down the length of the PCT, AT, or pretty much anywhere fast and light adventurers are getting after it.
With 30 liters of internal capacity (and an extra 15 liters of external storage), your kit needs to be pretty dialed to make a long-distance backpacking trip work in this. The Ultra 30L Curve is for those with base weights under 10 pounds who are looking to lighten their setup even more.
Despite such a low weight, this pack is still featured enough to make long-distance travel comfortable and efficient, and they offer several add-ons (such as a stretch mesh bottom pocket and various shock cords) to increase storage capabilities. While the pack doesn't ship with hipbelts, you can separately order a one-inch webbing hipbelt or a simple padded hipbelt if you feel the need.
For the lightest, fastest adventures you could dream of, Lite AF's Ultra 30L Curve is about as ultralight and streamlined as they come. Take care of it, pack it wisely, and it could be the ticket to that next FKT you've been eyeing.
Specs:
Weight: 13 oz. without any accessories
Volume: 30 L, plus an extra 15 L external capacity
Material: ULTRA 200
Outside storage: Two side water bottle pockets, large front shove-it pocket, ice axe attachment (optional), bottom stretch mesh pocket (optional)
Pros:
Crazy lightweight, yet durable enough for a thru-hike
Tons of loud colors to choose from to spice things up on trail
Long front shove-it pocket affords a good deal of external storage
Cons:
Need to purchase hipbelt separately
Pretty low 20-pound weight limit
Long custom pack lead times (upwards of 8 weeks)
Check Price at LiteAF
Zpacks offers one of the lightest backpacks in its size range, and they've also managed to make this pack tough as nails. Constructed with ultra-durable, lightweight Dyneema Composite Fabric, the combination of these features makes the Arc Blast ($375) one of the best ultralight backpacks for strenuous objectives.
The Arc Blast weighs just 21 ounces, but is built to carry up to 35 pounds. With a comfortable, suspended frame for ventilation, the only real downside to this pack is its $375 price tag.
This pack is a favorite of hikers who put down massive miles. For example, Dan "Knotts" Binde, who has crossed the United States seven times in the last three years, swears by this pack .
"I haven't switched up my packs a lot, but once I got used to it, it was solid, really durable — which I was worried about," he said.
Though it comes at a cost, the Arc Blast is about as streamlined as it gets, ideal for the dedicated thru-hiker looking for an ultralight option that can still haul relatively heavy loads.
Specs:
Weight: 1 lb., 2.8 oz. (short torso height); 1 lb., 4 oz. (medium torso height); 1 lb., 4.4 oz. (tall torso height)
Volume: 55 L (42 L main compartment, 2.5 L each side pocket, 8 L front mesh pocket)
Material: 1.6 oz./sq. yd. Dyneema Composite Fabric on the inside, with an extra layer of 50-denier polyester on the outside
Outside storage: Two side water bottle pockets, front shove-it pocket
Pros:
External carbon fiber frame transfers loads to the hips well
Carries heavier loads than many other ultralight packs very comfortably
Cons:
Front mesh pocket is not stretchable, limiting the amount of gear you can fit in it
Expensive
Check Price at Zpacks
Granite Gear Crown3 — Men's & Women's
The Granite Gear Crown3 ($220) weighs just 2 pounds 4 ounces and has a 60 L carrying capacity. Even at such a low weight, it can transform from a weekend heavy-hauler to a lightweight bag for a long thru-hike. Much like this pack's predecessor, the Crown2 60, the Crown3 60 is versatile, light, and relatively durable for an ultralight backpack.
New for 2022, we tested the Crown3 60 on a 32-mile 4-Pass Loop hike in the Colorado Rocky Mountains. We found the pack carried really well, even with a heavier-than-average load, thanks to the optional ($12 sold separately) aluminum stay. This beefs up the otherwise good VC Mark 3 Frame Sheet, giving the pack a weight capacity of up to about 45 pounds.
Our tester found the pack very comfortable and versatile, especially for its light weight and low cost. He also loved the huge side pockets, large stretch-mesh back panel, and removable, just-right-size top lid pocket.
The Crown3 uses the same material as the Crown2's 210-denier, high-tenacity nylon, which we put through more than 2,000 miles of testing. So we expect it to hold up at least as well as the old version.
If you're in the market for an ultralight backpack that can flex into heavier lifting when needed, don't hesitate. This is a proven backpack that just got a little bit better.
Read the full GearJunkie review of the Granite Gear Crown3 .
Specs:
Weight: 2 lbs., 6.4 oz.
Volume: 60 L
Material: 210-denier high-tenacity nylon
Outside storage: Two zippered hip belt pockets, two side water bottle pockets, ice axe attachments, stretch mesh shove-it pocket, elastic water bottle lash on shoulder straps
Pros:
Low weight with a high load capacity
Super durable
Comfortable and versatile
Cons:
The lack of a metal stay makes the load shift around some during use. This can be purchased separately.
Check Men's Price at REI Check Women's Price at Backcountry
The Sierra Designs Flex Capacitor ($220) is a remarkably versatile pack. We carried it on a speedy high route in Colorado with explorer Andrew Skurka, who helped design it.
While not the lightest on the list, weighing in at 2 pounds, 10 ounces, the Flex Capacitor is a great choice for those who want a pack that can literally expand for various jobs.
It quickly and easily adjusts from 40 L of capacity via tight straps up to 60 L with the quick release of a couple of buckles. Though it's heavier than most other options on this list, it feels light for a pack with a beefy frame, and it handles bigger loads better than the other backpacks on this list.
Overall, we really liked this pack after testing. It seems like a great choice for those who want a single backpack that will stretch for various uses, yet still weighs in well under 3 pounds.
If you're looking for the absolute lightest pack out there, this may not be the one for you. But as a reliable, adjustable backpack for lightweight backcountry pursuits, the Flex Capacitor would be a fantastic option.
Read the full GearJunkie review of the Sierra Designs Flex Capacitor .
Specs:
Weight: 2 lbs., 10 oz.
Volume: 56 L (S/M torso); 60 L (M/L torso)
Material: 100-denier nylon-poly ripstop/420-denier nylon oxford
Outside storage: Two zippered hipbelt pockets, two mesh side pockets, two stretch mesh hydration pockets on shoulders, ice axe attachment
Pros:
Adjustable volume from 40-60 L
Quite durable
Cons:
On the heavy side for an ultralight backpack
Check Price at Amazon Check Price at Sierra Designs
Serious ultralight backpackers heap praise on the Mountain Laurel Designs Exodus 55L ($245) and for good reason. The frameless pack carries a load of 20-25 pounds and weighs in at a scant 18 ounces. The brand calls it the "lightest full-size, full-featured, frameless pack made."
It's a popular design for thru-hikers or others doing big, lightweight miles who may be carrying a bear bin to protect their food from bruins. At 12 inches wide, 7 inches thick, and 35 inches high, it will fit a small bin with room to spare for other gear.
This design comes in two fabric choices. The Exodus 55L uses Dyneema X Fabric, which has a ripstop pattern of HMWPE to stop tears. It costs $245.
To go full-blown Dyneema, upgrade to the Exodus DCF 55L (Ecopak Ultra) for $325. The extra $80 saves you just an ounce, but the upgrade in materials means it will last forever as well as be largely waterproof (it's seam-taped).
The Exodus has a very supportive, cushioned hipbelt, especially for an 18-ounce pack. The SuperWick Mesh-lined waist belt wings with 1.5-inch webbing, and the buckle adjusts from about 28 to 45 inches.
It's a simple design that serves the needs of ultralight hikers with no unnecessary features. Customers can add a lid or hipbelt pockets and shoulder pockets if they so desire.
For the lightest and fastest hiking missions where weight and efficiency are the biggest concern, the Exodus has proven to be one of the best ultralight backpacks out there.
Specs:
Weight: 1 lb., 2 oz.
Volume: 58 L
Material: ECOPAK Ultra 200/400 in MLD Gray+Black, MLD Dyneema X 210 denier UHMWPE Ripstop in Wasabi Green or Gray
Outside storage: 2 side water bottle pockets, front shove-it pocket, trekking pole and ice axe attachment
Pros:
Accommodates a bear bin
Built with ultralight but durable material
Thoughtful, streamlined design
Cons:
Side pockets are quite tight
Hipbelt is pretty short
Check Price at Mountain Laurel Designs

Ultralight Backpack Comparison Chart
| | | | | | |
| --- | --- | --- | --- | --- | --- |
| Ultralight Backpack | Price | Weight | Volume | Material | Outside Pockets |
| Hyperlite Mountain Gear 3400 Windr ider | $379 | 1 lb., 15.6 oz. (white); 2 lbs., 2.5 oz. (black) | 64.8 L | DCH50 & DCH150 | 5 |
| Mountainsmith Scream 55 | $159 | 2 lbs., 13 oz. | 55 L | 210d Robic Dynajin nylon ripstop UTS | 6 |
| ULA Equipment Circuit | $280 | 2 lbs., 5.2 oz. | 68 L | ULA 400-denier Rubic | 5 |
| Waymark Gear EVLV ULTRA | $255 | 13.9 oz. | 35 L-38 L | EPL Ultra 200 and 400 Black ECOPAK fabric | 3 |
| Stone Glacier Terminus 7000 | $649 | 3 lbs., 15 oz. | 115 L | X-Pac and SG ultra-high-molecular-weight polyethylene | N/A |
| Gossamer Gear Mariposa 60 | $285 | 1 lb., 13.2 oz. – 2 lbs., 1 oz. | 60 L | 100- and 200-denier Robic high-tensile strength nylon | 6 |
| LiteAF Ultra 30L Curve | $240 | 13 oz. | 30 L-15 L | ULTRA 200 | 4 |
| Zpacks Arc Blast 55L | $375 | 1 lb., 2.8 oz. – 1 lb., 4.4 oz. | 55 L | Dyneema Composite with an extra layer of 50 denier polyester | 3 |
| Granite Gear Crown3 | $220 | 2 lbs., 6.4 oz. | 60 L | 210-denier high-tenacity nylon | 5 |
| Sierra Designs Flex Capacitor | $220 | 2 lbs. 10 oz. | 56 L-60 L | 100 denier nylon-poly ripstop/420 denier nylon oxford | 6 |
| Mountain Laurel Designs Exodus 55L | $245 | 1 lb., 2 oz. | 58 L | ECOPAK Ultra 200/400 in MLD or MLD Dyneema X 210 denier UHMWPE ripstop | 3 |
Why You Should Trust Us
The GearJunkie team ranges from casual weekend backpackers to full-blown thru-hiking dirtbags, and have put thousands of hard-earned miles on a variety of different ultralight backpacks in a range of conditions and landscapes. We know what it's like to get to the end of the day with a sore back from a poorly fitting or overloaded pack. We've therefore tried to whittle this list down to the absolute best models that won't weigh you down, but also offer a comfortable ride over big-mile days.
Every gram counts when trying to pare down your base weight. So, while testing these packs, we consider factors such as durability, value, useability, and the functionality of each accessory and feature to determine the quality of the pack. After weeks of putting each model through the wringer on fast and light backpacking trips, we feel confident recommending each of these backpacks to those wishing to push the limit and lighten their load on long trails.
Buyer's Guide: How to Choose the Best Ultralight Backpack
We've all had that moment of frustration as new backpackers where we realize we've overpacked, and contemplate chucking half the gear we brought off the next overlook.
It's the top of the first climb of the day, sweat is pouring off you, your shoulders want to kill you, and suddenly that five-pound tent you thought would be essential starts sounding a lot less awesome. You get home, saw your toothbrush in half, and start to research.
If you've decided to pull the plug and join the ultralight cult, there are some things you need to consider. First, it has to be done carefully as you are still headed into the backcountry with this kit, and need to be prepared for all the unexpected twists and misadventures mother nature loves to throw our way.
Don't focus too much on going lightweight that you sacrifice essential elements of safety in the wild, or bring a setup that is going to fall apart after two days on trail.
A reliable ultralight kit starts with a functional, solid backpack. With so many options on the market it can be hard to decide what to go with, and you should think about the elements that you will encounter on your trip, and the level of comfort you want, before making a decision. Below we've broken down several factors to consider when choosing the best ultralight backpack for your adventure, which hopefully streamlines the process.
Ultralight Backpacks Fabric Selection and Weather Resistance
Ultralight backpack manufacturers have the difficult challenge of offering an extremely lightweight package while also being durable enough to hold up to months of abuse on rough trails through bad weather. For that reason, these packs are constructed with the latest, most durable materials on the market, which often explains the high price tag.
Some of the most common fabrics found in ultralight packs are Dyneema Composite Fabric (DCF), Ultra, ECOPAK, X-PAC, and nylon (such as Robic or Cordura). Each of these fabrics has different benefits and uses, which impact the weight, durability, and weather resistance of the packs they construct.
Many people look at ultralight packs and think they are waterproof, since they often resemble the classic roll-top closures of dry bags, or are made with shiny reflective material. While the fabric of some of these packs is highly water-resistant, you will still want to add additional rain protection to your gear for when the weather turns foul.
Our testers like to use separate ultralight Dyneema dry bags for contents that absolutely need to stay dry (such as electronics, a first aid kit, a puffy jacket, and a down sleeping bag), with a large lightweight pack liner that always stays in the backpack, protecting everything. The two most popular waterproof pack liners are Nylofume bags, such as this one sold by Waymark Gear, and polyethylene bags, such as this one sold by Gossamer Gear.
We've found this to be the best, lightest, and cheapest, way to ensure that your gear stays completely dry. And you don't have to waste time desperately fitting a rain cover over your pack as a freak storm sweeps in, as the inside contents are already protected. Just make sure there's nothing too important in the external shove-it pocket.
In general, Ultra, ECOPAK, DCF, and X-PAC are waterproof to some degree, though the packs that use them may not be seam-taped, and water will seep through in prolonged bad weather. Most hikers who use these packs will still use a pack liner or cover in significant rain to keep their gear dry. Materials such as Robic nylon, on the other hand, will absorb water slowly over time and allow your pack contents to get wet.
The introduction of DCF and X-PAC to the backpacking scene represented a pretty significant jump in ultralight fabric technology due to their incredible strength-to-weight ratio. Packs such as the Zpacks Arc Blast have secured their spots as the lightest packs in their size range because of DCF, with the ability to carry loads of up to 35 pounds while maintaining an impressive, ultralight weight.
Ultralight Backpacks Volume Selection
The volume of your ultralight pack is an important part of the selection process, and depends heavily on how dialed in your base weight is. Ideally, you want to have a sub-10-pound base weight while wearing ultralight packs, which includes everything aside from consumables (such as food, fuel, and water).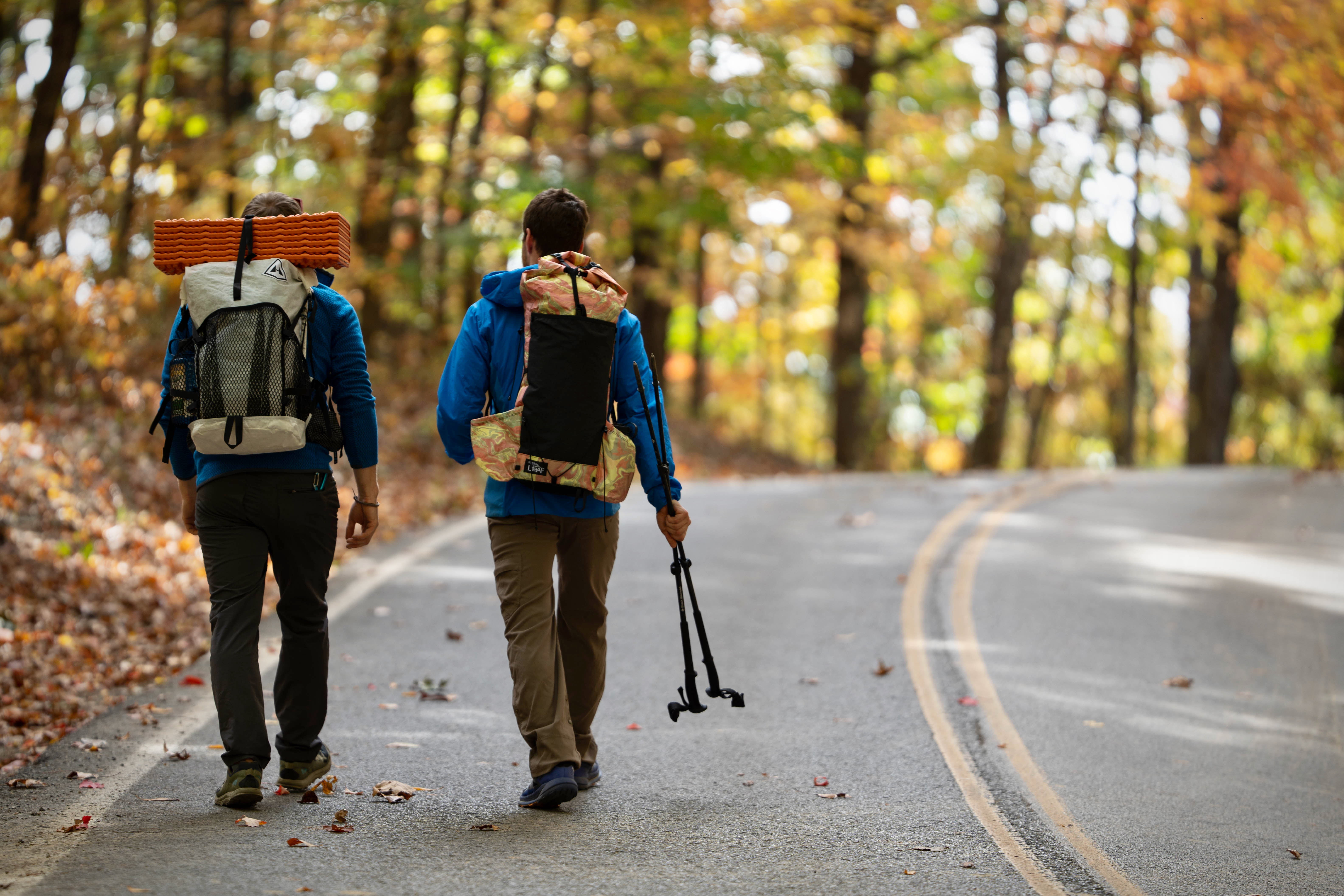 This is largely because, in order to achieve such a low weight, ultralight backpacks are generally not as durable or supportive as traditional, heavier backpacking backpacks.
Overpacking them will result in faster deterioration over time, and they just won't hold the load as comfortably on your back. For that reason, you want to make sure the gear you are packing is also as ultralight as possible if you are going to be using an ultralight pack.
For most ultralight hikers, a 40 L pack will provide enough volume for a long weekend trip, or a three to five-day push between towns on a thru-hike. This will always depend on the climate and terrain you intend to hike through, but for general three-season use, 35 L to 40 L should suffice. Some packs, like Hyperlight's 3400 Windrider , or Sierra Designs' Flex Capacitor , can expand or contract a good deal to accommodate different volumes of loads.
As hikers obsess further over every gram in their packs, truly committed ultralight backpackers can whittle their entire thru-hiking kit to fit into 30 L or smaller packs, but this comes with some notable sacrifices.
Using simple tarp shelters (or even a rain poncho) in lieu of tents, going stoveless, or carrying less food helps to save weight, but not everyone is ready to take that leap.
Hipbelts on Ultralight Backpacks
For a couple of reasons, many ultralight backpacks have a removable hipbelt or no hipbelt at all (such as LiteAF's Ultra 30L , or Waymark Gear's EVLV ULTRA , which have optional hipbelt additions). This is primarily found in frameless ultralight packs. Many hikers that have already dialed their base weight well below 10 pounds find that they can save even more weight by leaving the hipbelt off, without sacrificing too much comfort.
With frameless ultralight packs, hipbelts are not as load-bearing as traditional packs, as there is no frame for the load to be transferred to. The hipbelt really only helps keep the pack close to your body while hiking, preventing it from jostling around, since you optimally will be carrying a weight that won't overly fatigue your shoulders.
While most ultralight packs will still have a hipbelt, they will often not be as padded as traditional packs (such as the hipbelt on Mountain Laurel Designs' Exodus 55L ), and you may have the option of removing them entirely. You can still find great ultralight options, such as the Granite Gear Crown3 , that have solid suspension, ventilation, and support at the cost of a slightly heavier package.
It's important to think about the comfort level you are looking for in your pack, and how far you are willing to go to cut more weight.
Packing an Ultralight Backpack
You want to pack an ultralight backpack in much the same way that you would pack a traditional backpack , however, there are some additional considerations that are important to note. Namely, ultralight packs cannot carry the same weight that traditional packs can, so it is important to have as minimal and lightweight a kit as possible. This will not only prolong the life of your ultralight backpack, but will make it feel a lot more comfortable over the long haul.
As previously mentioned, you will ideally have a base weight that is under 10 pounds. Starting at the bottom of your pack, place your lighter, fluffier items like a sleeping bag and other elements of your sleep kit. These will serve as a "pillow" on your lumbar on top of which some of your heavier items can sit.
Bulkier, heavier items such as your cooking kit, food, and tent, should go in the middle of the pack and be situated as close to your back as possible. By putting these items in the middle of your back, you alleviate a significant amount of stress from your shoulders or lower back, which is particularly important with ultralight packs.
Finally, at the top of your bag, you want to pack lighter items that you may need to use throughout the day, such as a midlayer or rain jacket .
Since ultralight backpacks also tend to have less padding than other packs, you want to be more aware of how your gear is fitting inside your pack, in order to avoid things poking uncomfortably into your back.
Value
Getting ultralight gear in the mail can sometimes be a disconcerting experience. You just dropped $300 on this package and you can barely feel it in your hands!
While it may seem flimsy and fragile, most ultralight backpacks on the market are constructed with the leading ultralight and ultra-durable materials out there and can take quite a beating. There are some elements to consider, however, when choosing the right pack for you.
If going as light and fast as possible is your biggest concern, and you have the budget to be able to replace gear as it deteriorates, choosing an ultralight pack purely for its weight could be a good option. If you want an ultralight option, but also plan on putting it through a little more torture and want some comfort along the way, you might want to look at a more durable, slightly heavier model.
Buying an ultralight pack is an investment that has the potential to greatly improve your backpacking experience. The ability to travel light and fast not only increases the amount of wilderness you can enjoy in a given time, but can also reduce the beating your body takes on a demanding backpacking trip, allowing you to hike further and limit injuries.
Ultralight Backpacks: Pros & Cons
The Good
Ultralight backpacking means keeping your entire load low. Your base weight, including all your gear — except consumables like food, water, and fuel — should be under 10 pounds.
And that's where these packs shine. They are light themselves, thus adding very little weight to your back, but they also carry light loads comfortably and can stand up to reasonable on-trail use.
The Bad
You really need to keep your weight down with these packs ( Flex Capacitor and Stone Glacier Terminus excluded). Most of them won't serve you well if you load them heavy, so they're a little less versatile than more robust backpacks.
Where does this matter? If you own just one backpack and plan to use it for hiking, ski mountaineering, and rock climbing, you'll want to look elsewhere.
Also, some of these packs aren't super durable for off-trail hiking, so be sure to scrutinize materials closely if you plan to use them while bushwhacking.
Ultimately, you will have to decide if you're willing to trade creature comforts for minimal weight. For those who've made the leap, the above are some of the best ultralight backpacks on the market.
Ultralight Backpack FAQ
What Is the Best Ultralight Backpack?
Ask 100 hikers about their favorite ultralight pack and you'll get a dozen different answers. But like all backpacks, the most important aspect is that it fits your body perfectly and is adjusted properly! If you don't know how to fit a pack, it's worth a trip to an outdoor shop to talk with a qualified salesperson.
Are Ultralight Backpacks Worth It?
If you can keep your packing weight low, yes, an ultralight backpack is worth the investment for many hikers. However, it's worth noting that ultralight packs require the user to understand how to pack efficiently to keep their load weight quite low, usually less than 25 to 30 pounds.
If you expect your gear will weigh more than that, an ultralight backpack will probably not be a good choice, as many won't support heavy loads very well.
What Is a Good Base Weight for Ultralight Backpacking?
Your base weight is the weight of all your gear not counting things you consume such as water and food. So it includes things like your stove but does not include the food you cook.
Most ultralight backpackers consider a base weight of 10 pounds to be a good measure of ultralight backpacking. Get it down to 5 pounds, and you're in the superlight backpacking range. For more casual, lightweight backpacking, you can stretch the weight up to about 20 pounds.